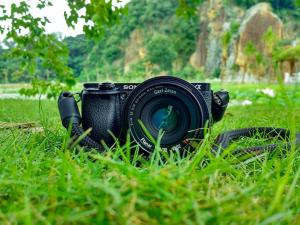 I've been lugging around a big DSLR and lens kits for years on my travels, but after my recent trip to New York I decided I've strained my back enough. The technology behind cameras hasn't really changed for years - all the big players really did was switch out film with a digital chip. "Upgrading" a camera is almost exclusively focused on size: a bigger chip, lens, or body seems to be where it's at. Isn't it time for some more innovation than just upgrading size?

I've been considering making a change for some time now, and after observing the market (and my back) I came to the conclusion that, aside from a silly megapixel war between camera manufacturers, most change is happening in the mirrorless space. The new mirrorless technology was disruptive to some extent, however results were not to the DSLR standards I was used to. To test something different I purchased one of the first, higher end compact mirrorless camera from Sony. Even though it had some good features the image quality was disappointing to say the least, with unacceptable high levels of JPEG noise. For my fine art work the camera was beyond useless.

What I needed was:



something light and small, preferably pocket size, easy to travel with (unlike my bulky DSLR). Size does matter when it comes to travel photography.


picture quality comparable to DSLR, with NO JPEG noise so I can print in large format without loosing quality


Option to shoot in RAW format preferred


Must have some optical zoom (digital zoom is useless)


Reasonable price point (Fuji has some cool mirrorless cameras but the 8000$ price point isn't what I'm looking to roam back alleys in South America with, if just for safety reasons alone :-)


To clarify, in my
fine art photography
work I focus solely on the fine art space: using innovative printing techniques on museum quality finishings, I document (and share) my travels around the world. I no longer do weddings and family portraits, and therefore get to be a bit more creative in terms of equipment. My comments are based on what's important to me as a travel photographer, I would never be willing to sacrifice image quality for a reduction in size and weight only.
The usual suspects like Canon and Nikon seem to do nothing in terms of true innovation and appear to be watching the market from the sidelines. Samsung had something going with a smart camera for a bit but nothing worth mentioning. After extensive research (buying a new camera isn't necessarily an easy process) I came up with two final contenders: the
Sony RX100II
, as well as the
Panasonic Lumix DMC-LX10
. Both are around $500-$600. The Sony is super lightweight and has a 3.6x optical zoom, and you can shoot in raw. The Panasonic doesn't have as good of zoom (2.8x), nor does it have a viewfinder, but does have the option to also shoot in raw.
Out of the two, the Sony weighs the least. It seems to me that if I was truly looking for a potential DSLR replacement for travel photography, then we should take weight into consideration. It slightly out-edges the Lumix for megapixels, and it has a viewfinder. Battery life is slightly better than the Lumix. The Lumix has a touchscreen (which the Sony doesn't) and video capabilities. It's zoom capability isn't quite as good as Sony's.
For completeness sake and not abandon the brand I had been loyal to for so many years, I played with the thought of buying a
Canon G7 Mark II
. Unfortunately both the price point and weight is significantly higher than the Sony option. While it has raw capability, it lacks video capability and a viewfinder.
After careful consideration, I decided to give the Sony RX a shot, and have been happy with the results so far. Please see for yourself - images in my
travel gallery
can be viewed at 100% if you click on the image. I no longer need to decide what equipment to bring on a trip, but can fit everything I need into a small bag. As one fellow photographer said, "that's freedom". While the size and weight weren't my main reasons to make the switch, I agree.
If you'd like to join me on my photography journey, please
click here
. It doesn't matter what kind of camera you have, as long as you're committed to get the most out of it next time you travel. My Travel Photography World program is a seven week journey into the world of photography, and contains the same material (and more) from my sold-out, in-person photography workshop in Canada's Rocky Mountains. Watch the trailer
here
, and learn everything about my program. I'd love to have you on-board.